I've been soooo busy over the last week that I haven't had a chance to update you on what is going on.... I am soooo sorry that I didn't get a chance to tell you all about last week's Designer Survivor collab kit because it was incredible! We were given a bunch of bright fun colours and had to create a kit inspired by Dr Seuss! As you can imagine, the results were a whole lot of fun! I was on the White team and we went for a birthday-themed kit called "Oh, the candles you'll blow!". I hope everyone was able to find their own way over to the kits and download them. Unfortunately, the links have been taken down for the kit from my team but there are still quite a lot of the other teams that still have their links available so you should rush on over
HERE
to collect them whilst they are still available!
Following on from that, a couple of people were eliminated (I was out of town for my sister's baby shower so missed all of the action) then we were shuffled around into four new teams. I am now part of the "Strings Team". Our next Reward Challenge was to create a Vintage Fall Paper Pack in 24 hours using our own colour scheme. My team created a gorgeous pack called "Falling Into Autumn" but we didn't rustle up enough votes so didn't win immunity (nor the extremely generous reward of a HEAP of CU items) so we'll be fighting for our place again this week. You can pick up our paper pack along with the other team's packs
HERE
.
Which brings us to the main challenge for this week. We were given a colour palette and a theme of "Gone Camping" and had to use mostly natural items for the elements. My team created an awesome kit called "Wild Adventures". I think my team has done a great job! We have 32 papers, a complete alpha and over 90 elements!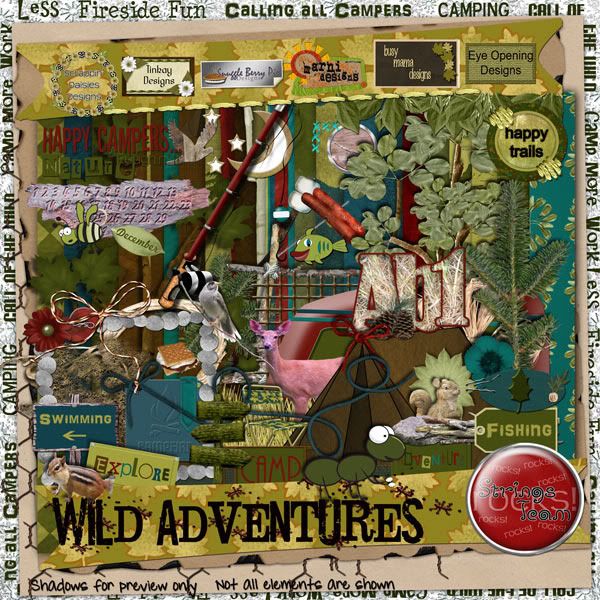 The best part about this week of the challenge for you is that all four teams had the same theme and colour scheme so all 4 kits should combine together nicely to make a SUPER-MEGA Camping Kit! You can download our kit and the other three kits from the gallery at Brownie Scraps
HERE
.
Hopefully I won't be voted off "Extraction Island" at Tribal Council on Friday, and will be able to present you with another fabulous freebie kit next week!
Enjoy!