Our task this week was to create a traditional "white wedding" kit that was at least 60% white and used only one other colour (in varying shades). We had to create a minimum of 8 papers (3 solids + 5 patterned) and 15 unique elements (with no more than 2 word art elements being counted) as well as an Alpha with at least uppercase or lowercase characters as well as numbers.
Although I had sooo many more things that I wanted to add to this kit, I got it finished and uploaded in time, and I am quite happy with the end result! It contains 22 elements (but only 16 are unique) and 20 papers.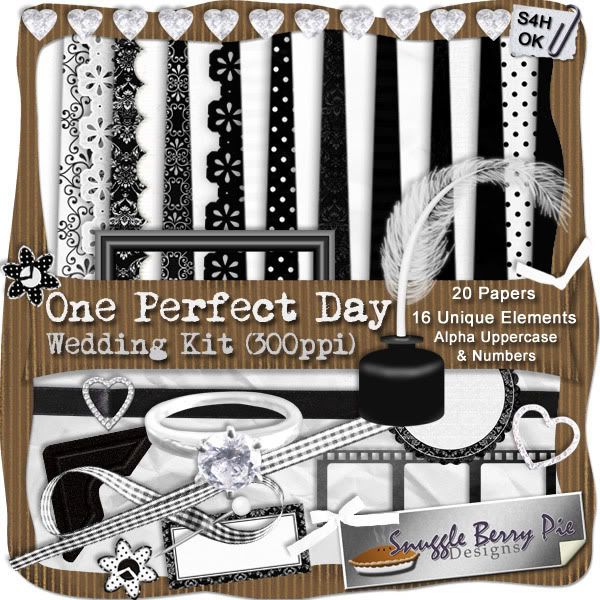 Although this kit is perfect for scrapping your wedding memories, my main motivation behind the kit was for it to be used when creating the various printables associated with a wedding such as "Save the Date" cards, invitations, menus, place cards, thank you cards etc. This way, you can have a consistent theme across your entire wedding which is then also carried through onto your wedding album.
Here is a preview of the alpha:
If you like what you see, the kit is available for free download for one day only. After that it will be put in my stores (and also be a part of my 66% off sale until August 31). I will hopefully also get a chance to create an add-on (or two) to go with it but that won't be for at least a month or two (unless someone needs it desperately before then). :)
To download
, head on over to the
Brownie Scraps Designer Survivor Week 4 Gallery
and pick up my kit along with the wedding kits from the 9 other remaining contestants.
With 1 person having immunity and 3 others being eliminated at about 3pm PST today, I have a 2 in 3 chance of remaining in the competition but feel that I am likely to be eliminated all the same. If not, I'll be back in a couple of days with another freebie and begging for votes again for the immunity challenge!
Enjoy!