For this week's Reward/Immunity Challenge, we had to create a brag book mini album using our kits from last week's challenge. We were allowed to choose any size or shape for the pages and had to create between 3 and 7 pages. Originally, I wanted to create a hybrid style of album in the shape of the word "BABY" with each letter (front and back) as a separate page. After careful consideration, I decided that you probably should have a back page so would need to have 8 pages (whereas the limit was 7). I also decided that it may reduce the marketability due to it no longer being such a "quick" task to use them. So, I decided to go with good old standard photo size and created a mini album consisting of four 4x6" quick pages using my mini kit 'In Your Eyes - Wonder'.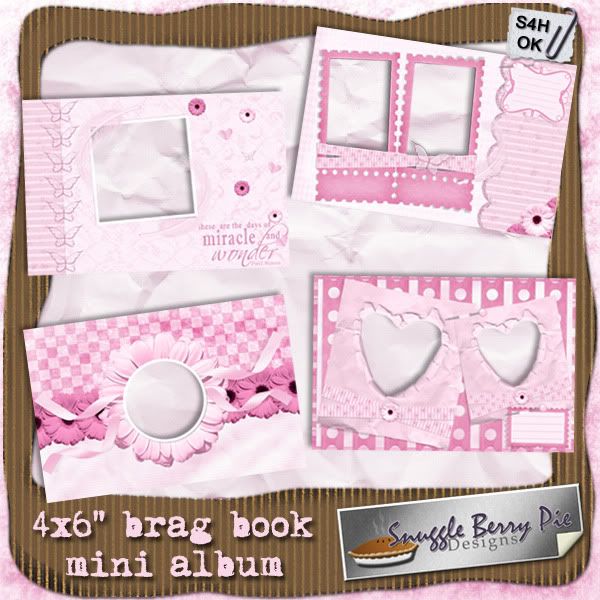 To get a better feel for what can be done with these quick pages with very little effort, here are some examples: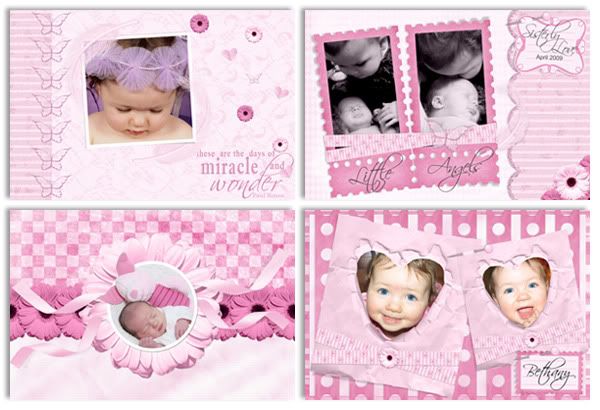 If you like what you see, please vote for
Snuggle Berry Pie Designs
to win the reward/immunity challenge in the simple poll
HERE
.
If you have not yet grabbed the 'In Your Eyes - Wonder' mini kit, it is available in both of my stores (and part of the 66% off sale until August 31) OR you have one last chance to download it for FREE for one day in my previous blog post.
To Download:
1. Vote for
Snuggle Berry Pie Designs
in the very simple poll
HERE
.
2. Check out the
Brownie Scraps Gallery
to download the brag book pages.
3. If you haven't already done so, check out
my previous post
to download the mini kit.
4. If you happen to have multiple browsers installed (eg FireFox and Internet Explorer), feel free to vote again using the other browser :)
5. If there is anyone within reaching, shouting or emailing distance, feel free to also ask them to vote too :)
Enjoy!