I am soooo excited to inform you that I will be co-hosting the October Brownie Addicts club with Sara (
Scrap Sprinkles Designs
)!!! It has come at such a great time of year, so we have some rather adorable kits and fun freebies and bonuses for the members. The club membership for October is now available
HERE
in the store. If you grab your membership by Sept 30, you will get it at the bargain price of $7!!! From Oct 1 onwards, the price will return to $10.
But wait, there's more! :) Brownie Scraps is currently celebrating its 2nd birthday and part of the celebration involves a 3-day Bake Sale and "Brownie Bucks" store credit. All purchases made this month (until Sept 26) will earn "Brownie Bucks" which will then be redeemed as coupon dollars for all products in the Bake Sale. The Bake Sale will be held from Sept 28 to Sept 30 and will consist of over 30 new and exclusive products on sale for 3 days only and then gone forever. All of the Bake Sale items will be priced at $3 or less and you can use your Brownie Bucks to pay for them (or use PayPal like you normally would). For more information about Brownie Bucks and the Bake Sale, check out
this area of the forum
.
So, what does this have to do with the Addicts club?? Well, if you grab the October Addicts club membership before Oct 26, you will not only get it for $7 (regular price is $10), but you will also get 1 Brownie Buck to spend in the Bake Sale. However, if you spend just $3 more anywhere in the store in the same transaction, you will also qualify for the
store collab
as well as earning 3 Brownie Bucks which will be enough to pick up at least one additional item for free in the Bake Sale! How good is that???
If you are looking for suggestions for what else to buy to reach the $10 total, I can point you in the direction of my latest release,
Take a Complement
which is $3, and/or Sara's latest release,
Dress Me Up
which is $5 with a gorgeous bonus alpha until Sept 24.
'Take a Complement' by Snuggle Berry Pie Designs ($3)
To give you a better feel for the kit, here are some fabulous layouts that my CT (and other Brownie Scraps designers) created using 'Take a Complement':
'Dress Me Up' by Scrap Sprinkles Designs ($5 with bonus alpha until Sept 24)
Bonus alpha (included in the product download) if purchased before Sept 24.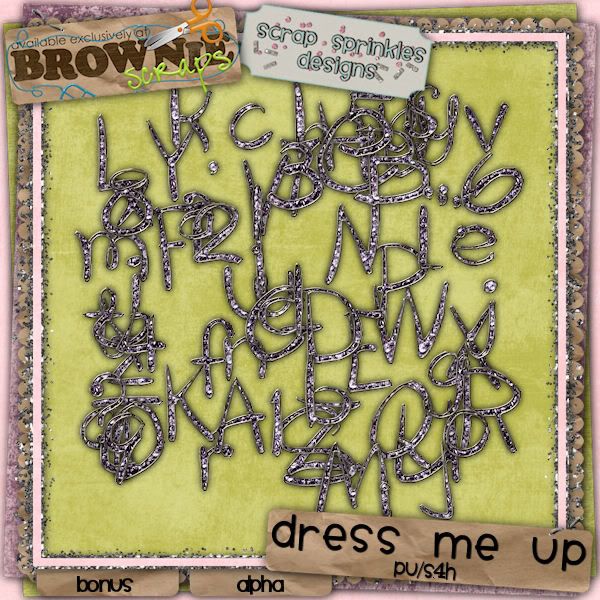 To add to all of the excitement, we are also giving you a chance to pick up your October Addicts club membership for FREE in the RAK held over at DST. If you would like to take part in the RAK, just head over to
this thread
and leave a comment. Be aware, however, that the close date for the RAK is Sept 24 which is very close to the last day for getting the Addicts at the discounted price (ie $7) and even closer to the last day for earning the Brownie Bucks, so you may wish to purchase now all the same. So, to save you the worry in deciding whether to purchase now or wait for the end of the RAK, let me just say that if you purchase your membership now and then are lucky enough to win the RAK, I will give you a coupon to my store matching the purchase price of your addicts membership!!! So, you can't lose! :)
So, now that you have:
* grabbed your October Addicts club membership for $7 (
HERE
),
* checked out Sara and my latest kits (
HERE
and
HERE
),
* learnt more about the Bake Sale and Brownie Bucks (
HERE
),
* spent an additional $3 (or more) to qualify for the 3 Brownie Bucks and September Store Collab (
HERE
)
AND
* entered the RAK (
HERE
),
it's time to relax and enjoy a little freebie :)
This quick page was created by Eileen (Leenie Lou Designs) using my 'Take a Complement' kit.
Download:
sbp_takeacomplement_qp1.zip
Enjoy!