How would you like to receive a free add-on for any of my previously posted mini-kits that is customized to include whatever you would like? Well, read on...
Brownie Scraps is having a bake sale tomorrow and they want to get the word out so have asked people to blog about it. Anyone who makes a purchase at Brownie Scraps (either during the sale or otherwise) is asked to leave my blog name (
Snuggle Berry Pie
) in the comments field and I will receive a coupon to the store. That's great for me, but doesn't seem fair to you, so I have an added bonus in that anyone who makes a purchase at Brownie Scraps and leaves my blog name in the comments field, will get to request a free add-on to one of my mini-kits. Do you love the Baby Dino kit but wish it had a triceratops? Well, that can be done! Or, perhaps it could do with a bigger journal tab - Done! Or maybe you would just like a quick page using the kit - DONE! You get the picture.
So, head on over to
Brownie Scraps
where you can pick up some MAJOR bargains on absolutely top quality products! Almost everything there is 25-35% off for today/tomorrow only (Thursday 23rd April) including CU items! Even their "Dollar Goodies" are reduced where you can normally pick up a kit for $1 are now a ridiculous $0.65!!! This even includes my all-time FAVORITE kit called "
Funner With Flowers
" FOR ONLY SIXTY-FIVE CENTS!?!?!?!? ARGH!!! I've gotta go... so many things to buy :)
I've also got a freebie for you for taking the time to visit my blog. It's a brag book/photo sized quick page using the Baby Dino freebie kit. If you haven't already grabbed the Baby Dino kit, you can find the links in a previous post.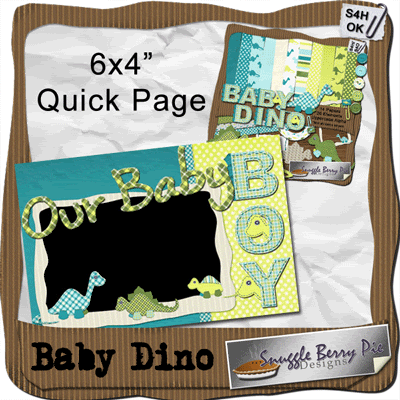 Download
HERE