Have I got some treats for you today!?!?!??! First off, Brownie Scraps is having a site-wide 35% off sale (with a few minor exclusions such as the Bytes and Addicts)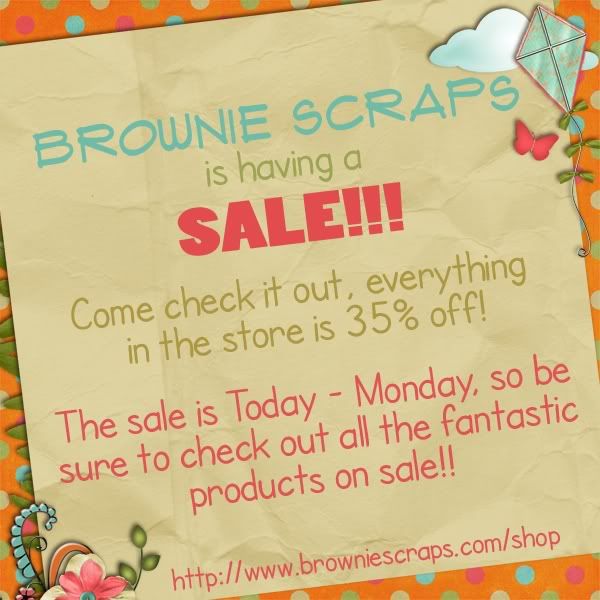 Next, if you haven't already been told, it is time you heard all about the latest event over at Brownie Scraps... Mini-topia!!!
From now until May 31, for just $5 you get 5 incredible mini kits that will each be used over a period of 5 weeks (1 layout per week) to participate in fun challenges with AWESOME prizes!!! Each week (starting May 31), everyone who completes the layout challenge will be in the running for some awesome coupons and at the end of the 5 weeks, everyone who participated in all 5 challenges will be in the running to win:
* US$20 Gift Certificate from Brownie Scraps
* 12x12" Scrapbook Album
* US$50 Gift Certificate to PersnicketyPrints
If you want to jump straight in and buy your "ticket" (or just grab these awesome minis at such a bargain price without even playing along :)), you can find the pack of mini kits in the store
HERE
. If you would prefer to get some more information or ask any questions, head over to the forum
HERE
where all of the excitement is building!
Now onto the Bytes... The Brownie Bytes daily download kit (From A to Z - add-on) is now available in the store
HERE
at Brownie Scraps for the bargain price of just $3. So if you miss any of the daily downloads, it won't break the bank to collect the rest :)
The co-ordinating Mega kit is HUGE and is also now available
HERE
in the store. Not only that, but it is half price (just $4!!) for the month of May. Grab this to go with your daily Bytes for a super-mega kit of alphabet fun!
Alternatively, you can join the May Brownie Addicts club
HERE
and get the Mega kit, the Add-on (Bytes) kit, a really cute full-size kit, an additional mini kit, fun events, challenges and competitions, HEAPS of coupons and some bonus freebies all for the bargain price of just $9.
Here is your Byte for today:
**link expired** (See
today's post
for the current Byte)
Enjoy!